How to convince classroom teacher trainers that you can train vocational trainers to help their students develop a sustainability mindset online as well as face to face? As part of the Bonn Multiplier Event I ran a workshop on blended learning for sustainabilty. See the slides here.
On the same page?
The first step was to collect ideas on the meaning of blended learning. And here I ran into a language problem as someone in the room interpreted blended learning to mean interdisciplinary learning. It was good therefore to present a definition to use as a starting point.
A formal education program in which a student learns: at least in part through online learning, with some element of student control over time, place, path, and/or pace; at least in part in a supervised brick-and-mortar location away from home; and the modalities along each student's learning path within a course or subject are connected to provide an integrated learning experience. (Horn and Staker, 2013)
The words I have highlighted are the concepts which tend to surprise teachers as being part of blended learning. Since the Prof E Sus project is a teacher training course then the issue of student control should be very uncontroversial since teachers love to be in control! For various reasons, the teachers who will take this course should be very much in control since we will be asking them to devise action research projects and implement peer support and peer coaching during the online part of the course.
Experience tells me that we will have more problems ensuring the integrated part of the definition. A looped input curriculum could help to offset this. And we will have to come up with additional strategies.
Climbing the SAMR ladder
The next challenge is to help course developers to open their imaginations to be able to create tasks and activities online that are just as engaging or even more so than training room-based ones. This is to avoid the default option of compiling a set of resources that have to be read and on which learners are then tested. We need to climb the SAMR ladder as I outlined in this post. The impetus to do this should be doubly strong in the Prof E Sus project since it is a tenet of green pedagogy that learning must be active.
So I thought I should present a few examples of activities which might be possible within a sustainable vocational training.
Don't just read: Annotate a reading collaboratively. This can be done using a generic tool such as Google Docs or using a more specific tool such as Now Comment
2. Use images as an etivity
We hear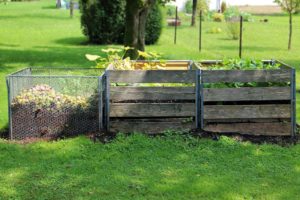 d from Gregor Torkar about the great potential for using images as starting points for discussions and investigations (based on the PERL project). Gilly Salmon promotes etivities which are short triggers to action. Some teachers may worry that this does not reach the required depth. But if the process is set up correctly so that the group trusts each other through the initial socialisation phase, then they can go far and further than you imagined. For example see this article about how much further students reach when they form a strong social unit.
The image of the composting for example could be used in many different ways:
Can be a trigger to looking at process in food preparation work, or a trigger to asking how the process can be improved
LOLA Looking for Likely Alternatives.
Could be done in small groups or in plenary.
Could be done synchronously or asynchronously.
3. Use video as a window
The three minute video below about the largest laudromat in the US using solar energy to power the business could be used in many different ways:
Start a discussion
Analyse the strategy of this owner
Prompt students to make their own video of their own workplace or visiting someone else's
Get in touch with the owner for more information

Having given a few ideas about what tasks could look like online, I then used the rest of the workshop to ask participants to do the exercise from the OULDI kit, choosing the most important features for the Prof E Sus Blended Learning course.
It is interesting to note the overlap between the two groups as this shows what the core of the course should be about.
| | | |
| --- | --- | --- |
| Types of features | Group 1 | Group 2 |
| Guidance & support | Scaffolded learning | Student autonomy |
| | Active discovery | Mentoring in the workplace |
| | Peer support | Peer support |
| Content & experience | Authentic learning or assessment | |
| | Practice-based | Practice-based |
| | Problem-based | Problem-based |
| Communication & collaboration | Debate | Collaborative |
| | Sustainable | Sustainable |
| | Group tutorials | Social |
| Reflection & demonstration | Peer assessment | Self assessment |
| | Reflective log or blog | Reflective log or blog |
| | Portfolio or eportfolio | Portfolio or eportfolio |
| | | Student-generated content |
I will be exploring in later posts how we propose to come up with competences around which to build the course.