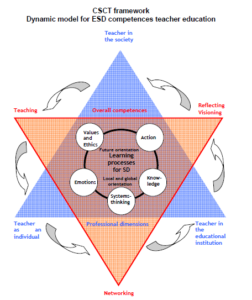 One of the first products released by the ProfESus project will be a collection of resources that can help teacher trainers to set up similar teacher training courses for teachers of vocational skills.
This consists of two parts. The first part is a booklet of the basic principles of sustainability in vocational training and the strategies that can help us (available soon) while the second part is a searchable curated collection of resources.
The resource bank is now available by clicking on ESD in the menu of this website which takes you to the front page of the Education for Sustainable Development directory.
How to use the directory
The resources have been allocated to several categories:
There is also a general category which includes resources that have been allocated to one of the main categories but are also of more general interest. When you have done a search, the sources that are key resources for the Prof E Sus project appear at the top of the list.
You can also search by key word. So for example, the United Nations and especially UNESCO are key players in sustainable development. If you would like to consult the resources from these organisations which the Prof E Sus project intends to use then you can search on UNESCO.
Let us know if you think we have overlooked a critical resource.
The image shows the model of teacher competencies for ESD available from this handbook which is one of the project's key resources.